We connect businesses with clients
We encourage you to turn your website into a powerful engagement tool by turning visitors into potential customers.
Our approach is to help you connect with them more easily and to position you as a reference within your sector through effective marketing strategies.
The actions you'll take are completely measurable, so you can calculate the return on your investment. That way, you can monitor every step of your campaign (with us, nothing is left to chance).
Increase your sales by connecting with people who are interested in your company
You will get:
– Evaluation and diagnosis of your current marketing strategy
– SMART objectives and  an outline of your yearly plan
– Buyer Profiles of your ideal clients
– Quality content ready for distribution
– Analysis of every action taken and suggestions on implementation or corrective steps whenever necessary

Get international clients
You will:
– Create profiles for your ideal international clients
– Develop content in other languages
– Distribute translated content on social networks
– Manage social networks, in collaboration with bilingual professionals
– Publish and promote multilingual visuals (Infographics / Diagrams, etc.)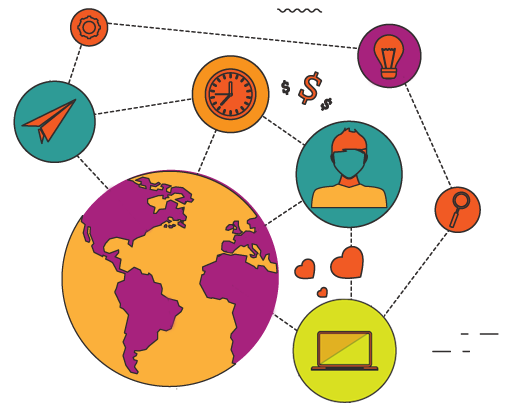 Become your audience's point of reference
You will learn to:
– Connect with your audience in a different way (you will inform and inspire them)
– Start speaking to your industry or sector
– Create and distribute conversational content
– Offer solutions, not descriptions of your products or services
Learn new ways of getting clients and increasing sales
We provide training in:
– Capturing the interest of visitors who visit your website for its content
– Identifying potential clients and guiding them in their purchasing process
– Fostering a relationship with your customers